WELCOME TO ECCLESFIELD GROUP PRACTICE
We are confident that our website will provide clear and concise help and give our patients the information they require in an easy and convenient format. It has been designed with the patient's needs at the forefront of everything, from checking surgery times to letting us know what you think of us.
Our dedicated team are here to treat those minor ailments that occur as well as providing specialist management of long-term conditions and clinics covering a wide range of healthcare issues. The technology also means you can now do a lot of things from the comfort of your home such as order a repeat prescription or cancel an appointment.
ECCLESFIELD GROUP PRACTICE - IMPORTANT UPDATES
FLU VACCINES / COVID BOOSTERS update
We have this week been given guidance from the government that we will be giving this years flu vaccines simultaneously with the covid booster and therefore will be working our way through cohorts 1-9 and you will be contacted to book an appointment in due course.
Please note you must have had our 2nd covid vaccine 180 days before you receive your booster, therefore you will only be booked in once you reach 180 days or over.
This approach is strictly stipulated by the government and is not decided at practice level.
Out of Area (OOA) Registrations
Currently the NHS is under extreme pressure and it is with regret that our partners have made the decision to stop offering OOA registrations. We will continue to accept new patients within our current boundary.
This is with immediate effect. We are sorry for any inconvenience this may cause.
GP DATA FOR PLANNING AND RESEARCH (GPDPR)
Data Opt Out Information
You may be aware of a new NHS Digital initiative https://digital.nhs.uk/data-and-information/data-collections-and-data-sets/data-collections/general-practice-data-for-planning-and-research to extract information from GP records for research and other purposes. Patients might want to opt out of this data collection and there are 2 different requirements to opt out:
Type 1 data opt out - Urgent action required as the opt out window closes on 23 June 2021
Type 2 data opt out - No time limit
This is to protect non-GP data held on your system, e.g. hospital or clinic treatment.
Government Guideline Changes 19th July 2021
Whilst government guidance changes on the 19th July in respect to wearing of masks we will continue to ask that they be worn when attending the practice.
As a healthcare provider, we have worked tirelessly over the past 15 months to create a safe environment within which staff can work and you can attend. Whilst the number of positive cases continues to rise, we believe it appropriate to continue wih our current arrangements.
So, you will be asked the COVID related questions, asked to wear a mask and you will be socially distanced in the waiting room.
Please note that we are still open from 8.30am until 6pm. We are still consulting by telephone and video appointments, however, if you need to be seen face to face then the clinician will book you in.
Please respect the job that the receptionists are doing, they are working to protocols set out by the partners in order to keep this practice operating as efficiently as possible.
We hope you undersand the reason for us contiuing to work in this manner: the situation will be reviewed regularly and changes made where appropriate. Our key focus is keeping the staff and community as safe as possible, thank you for your understanding and continued support.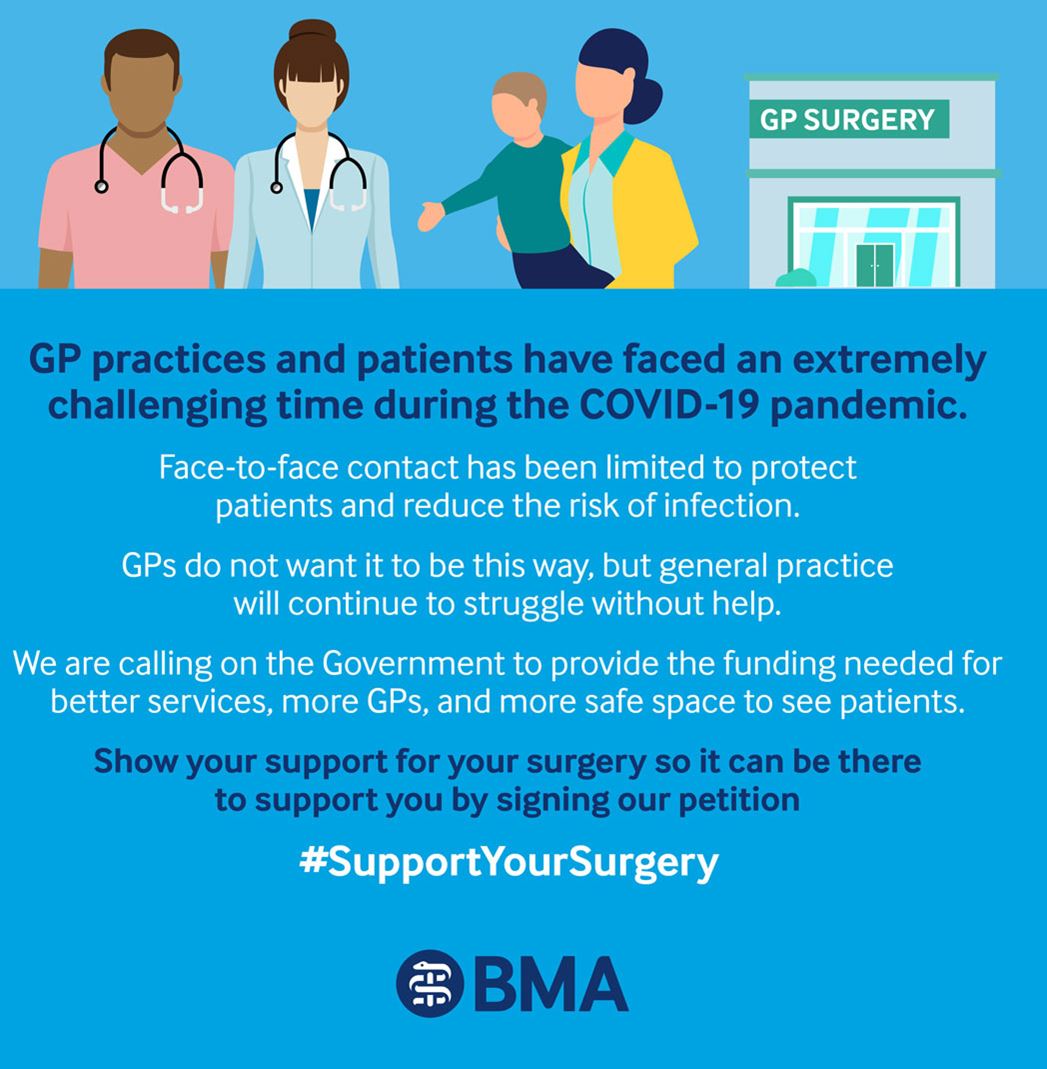 Try the new NHS App
If you're a patient at our practice you can now use the new NHS App, a simple and secure way to access a range of NHS services on your smartphone or tablet.
You can use the NHS App to check your symptoms and get instant advice, book appointments, order repeat prescriptions, view your GP medical record and more.
If you already use 'SystmOnline' you can continue to use it. You can use the NHS App as well. For more information go to www.nhs.uk/nhsapp'
Keep up to date with the latest practice news
Newsletter
Download the latest newsletter Newsletter - Summer 2021
To receive future editions of the newsletter straight to your inbox sign up below.
Volunteers Needed
Could you help train the next generation of doctors? Click below to find out more.