URGENT MESSAGE TO ALL PAITIENTS - TELEPHONE FAULT
Please note we currently have a fault with our telephone lines. This has been reported to our telephone engineers who are trying to sort this out for us. Please accept our apologies for any inconvenience this may cause.
WELCOME TO ECCLESFIELD GROUP PRACTICE
We are confident that our website will provide clear and concise help and give our patients the information they require in an easy and convenient format. It has been designed with the patient's needs at the forefront of everything, from checking surgery times to letting us know what you think of us.
Our dedicated team are here to treat those minor ailments that occur as well as providing specialist management of long-term conditions and clinics covering a wide range of healthcare issues. The technology also means you can now do a lot of things from the comfort of your home such as order a repeat prescription or cancel an appointment.
Covid 19 - Important Information
We know people will be anxious to get their booster jabs following the announcement on Sunday 12th December. Unfortunately, we haven't had any advance notice of the information before the announcement by the prime minister. We will be trying to organise the logistics of any additional jabs as soon as possible.
In the meantime, please don't ring reception to try and book a jab. If we are able to arrange extra clinics we will send invites to patients as and when appointments are available.
As things stand currently you are eligible to BOOK a booster if:
It's been 2 months (61 days) since your 2nd dose and you're in one of these groups:
aged 16 years old and over
aged 16 years old and over with a health condition that puts you at high risk from COVID-19
frontline health and social care workers
There are 3 ways for eligible people to book their booster.
National Booking Service
https://www.nhs.uk/conditions/coronavirus-covid-19/coronavirus-vaccination/book-coronavirus-vaccination/
or attend a walk-in clinic
https://www.nhs.uk/conditions/coronavirus-covid-19/coronavirus-vaccination/find-a-walk-in-coronavirus-covid-19-vaccination-site/
or by calling 119.
As soon as the eligibility for boosters expands as was announced we will let you know.
Letter to Sheffield Residents
Please click on the link below to access the letter from our Sheffield CCG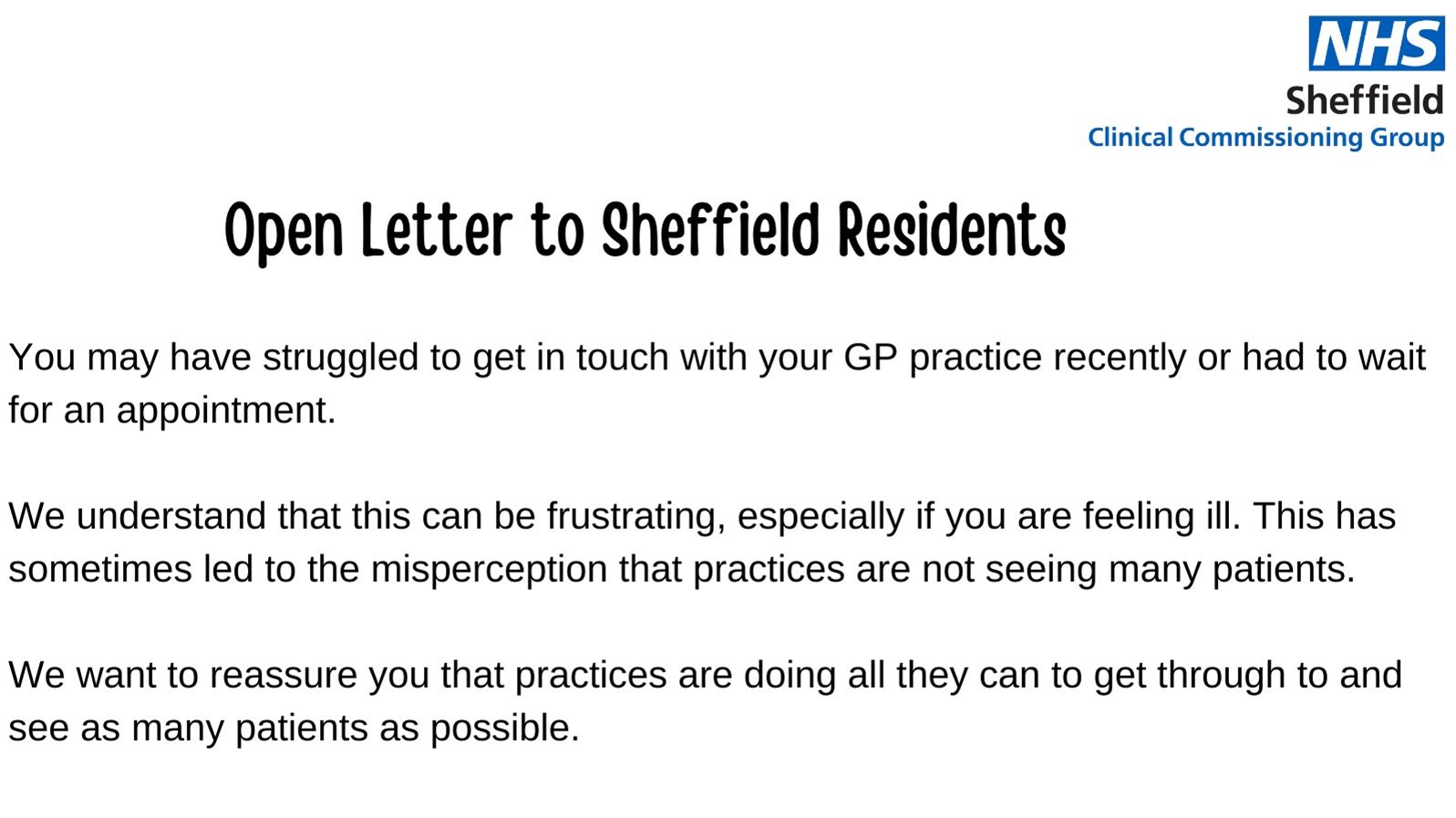 Ways to contact our surgery
There are three ways to get in touch with us this at this GP practice.
It's no secret that our surgeries have been busier than ever. That's why there are now more ways to get in touch with us. You can:
Use our online form on this website at www.ecclesfieldGP.co.uk. It's convenient and secure and can save you time. Our medical team will respond within three working days.
Call us during surgery hours - 0114 246 9030
Come into the surgery
via the NHSApp
Pick the option that suits you best. No matter how you choose to get in touch with us, whether it's using an online form, calling or visiting, you'll get the help that's right for you.
Please remember, when visiting the surgery, you still need to wear a face covering and maintain social distancing to protect vulnerable patients from Coronavirus infection.
Getting back to you
No matter how you get in touch, you'll get the help that's right for you.
We may:
Book a face-to-face appointment for you
Arrange a phone or video consultation
Send you a text message, for example, inviting you for a blood test
Arrange a home visit, or
Refer you to another service.
However we respond, you can rest assured that we're always looking after your needs.
Help us, help you
When requesting care, whether online, by phone or in person, it helps us if you explain what's wrong. This ensures you get the care you need at the right time from the right person – for example, from the doctor or nurse who normally treats you. It also helps our medical team to prioritise those who need care most.
If you prefer not to say – for example, when talking to our reception team – they will always respect your privacy. However, it's an important part of their job to ask, so thank you for your support with this.
Please also tell us if:
You would prefer us to talk with you by phone, face-to-face or by video call
You need to speak to a particular person because they have treated you before
There are certain times of day when you can't talk, for example you are at work, at school or college
You need English to be interpreted, you need help from another person at your appointment, or if you have other communications needs.
We will do our best to meet your needs in the way you would like, but please bear in mind that if you are unwell, our priority will be to ensure you receive care quickly.
Help from your local pharmacy team
Your local community pharmacist and their team can help and support with minor illnesses. As dedicated, qualified health professionals, and experts in medicines, they can offer clinical advice, consultations and over the counter medicines to help safely manage a wide range of minor health concerns. Many pharmacies also offer a range of new NHS clinical services including blood pressure testing.
For urgent medical help
If you have an urgent medical problem and you're not sure what to do, NHS 111 can help. Call or go online, 111.nhs.uk.
For life-threatening emergencies, dial 999.
Talk to us
If you would like any further information, please speak to us next time you're in touch.
'Try the NHS App' If you're a patient at our practice you can now use the new NHS App, a simple and secure way to access a range of NHS services on your smartphone or tablet. You can use the NHS App to get health advice, book appointments, order repeat prescriptions, view your GP health record and more. If you already use SystmOnline (GP online service available at practice) you can continue to use it. You can use the NHS App as well. For more information go to www.nhs.uk/nhsapp'
Click here to access the NHS app NHS App - NHS (www.nhs.uk)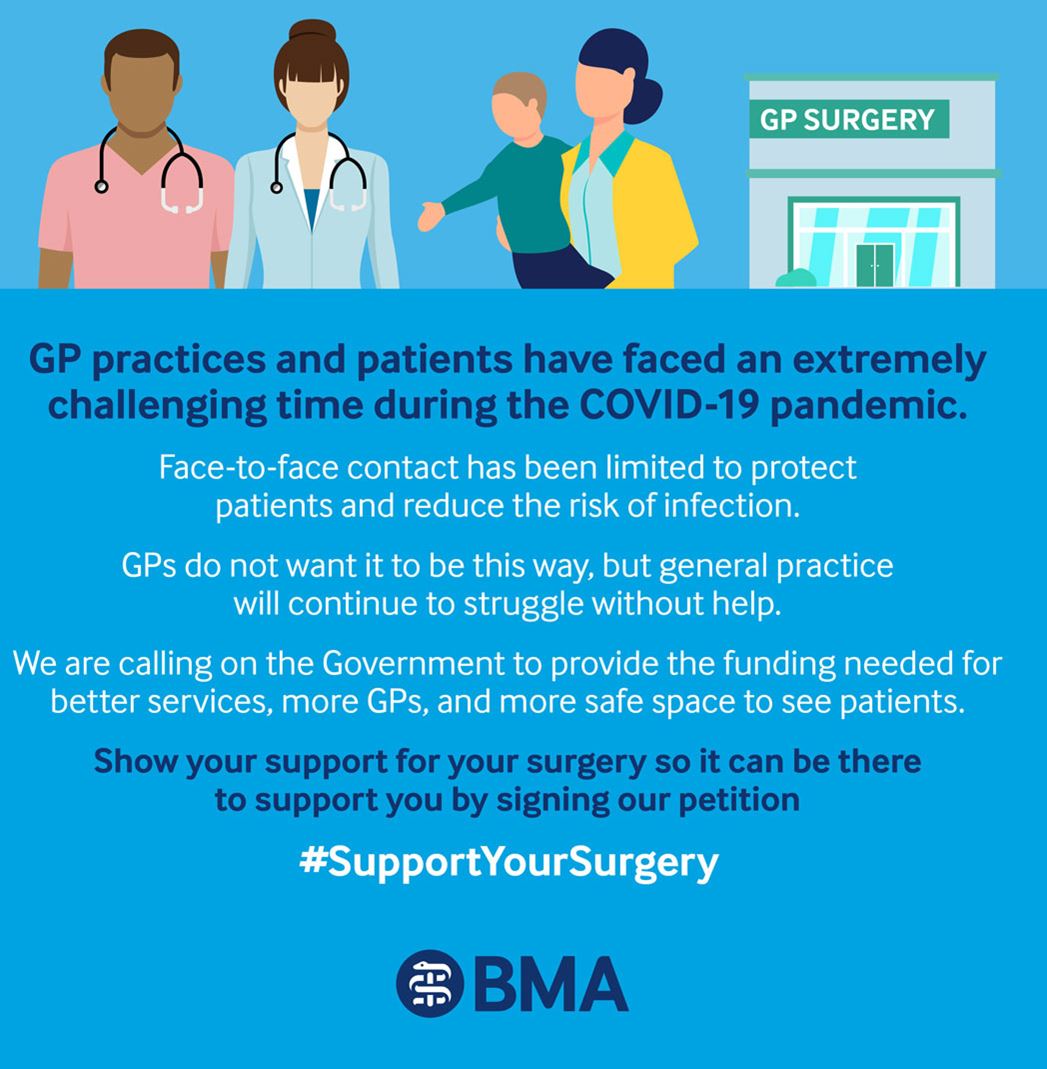 Keep up to date with the latest practice news
Newsletter
Download the latest newsletter Newsletter - Summer 2021
To receive future editions of the newsletter straight to your inbox sign up below.
Volunteers Needed
Could you help train the next generation of doctors? Click below to find out more.